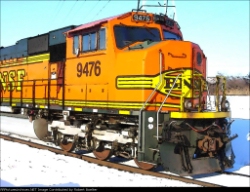 Welcome to the RRPictureArchives.NET contributor site of Robert Boelter.

Hello everybody,
I have been taking train pictures since the early 70's. I lost all of my early work in my divorce, but I still have some from the 90's that I have to scan , then I will post them. I'm from Dearborn, Michigan a suburb of Detroit. If anybody has any request , send me an email and I will see what I can do. Thanks for looking and I hope you enjoy.


You may browse my collection of pictures via the menu located on the left hand side of the page. I hope you enjoy the collection and thanks for stopping by!
Note: This site is best viewed in Internet Explorer 6.0 or above.
Select one of the links from the menu on the left to begin browsing the collection.